We drive your IT, while you drive your Business
Delivering Peace of Mind
It is very important in today's world for a company to create marked differentiation in your business from your competition. One of the ways to do this is to have an IT partner to help you with day-to-day management of your IT Infrastructure. When this is safely done, it frees up the top leadership to focus on growth areas for the company. Armed with Technology Solutions your business needs, Danush is uniquely poised as the perfect partner for your IT Operations & Needs.
We have the expertise and support that is required to provide your company top line solutions. When you partner with us, you are accessing our comprehensive geographic coverage, your risks are reduced, you are able to focus more on your core business, you have access to our flexible coverage plans, you have access to an enhanced skill base, you access the latest technology, you are able to adapt to changing business conditions and your costs optimized and are predictable.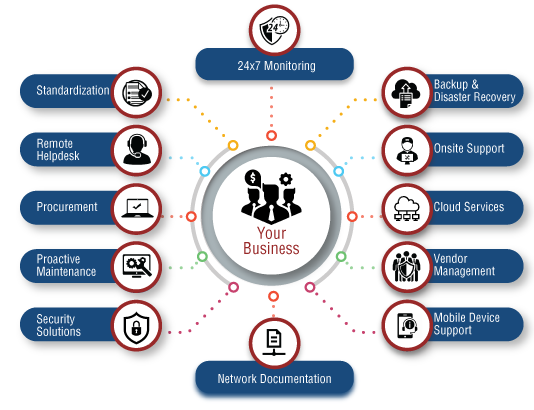 Business Benefits
Reduced Risks
Proactive Solutions
Controlled + Predictable Spending
Level the Playing Field – Larger companies typically will have full time professional. Small to medium business can't afford that luxury.
Compliance and Security
Lowered Costs
Access to IT Professionals
Vendor Management
New Technology
Faster Response Time
Stay Focused on Business
Free-up Internal IT team for projects
Transparency, Weekly MIS Reports & Measurable Service Delivery
Our Offerings
Network
Local Area Network
Wide Area Network
Voice Network
Data Center
Server & Storage
Server Virtualisation
Storage
Private & Hybrid Cloud
End Computing
Desktops
Thin Clients
Virtual Desktops
Mobility / BYOD
Work from Home
Applications
System Softwares
Directory Services
Business Software
Messaging & Collaboration
Database
Web Applications
Security
Disaster Recovery
Business Continuity
Backup & Restore
Cyber Security & Firewall
End Point Security
IT Service Management
24×7 NoC
Service Desk
Standard Managed Services
Professional Managed Services
Enterprise Managed Services
Our Service Desk – Which makes us Great
IT Service desk is here to connect your employees with Technology to add value to your business.
The Service Desk and Incident Management process aims to restore IT Services to defined Service Levels as quickly as possible.
Single place to report all the issues
Ticketing registration
Provides systematic approach
Transparency
Historical logs
MIS reports
Proactive & Preventive
Performance Surveys
Assured Service Levels (SLAs)
Remote Support
Onsite Support
98% Annual Client Retention
Rapid Guaranteed Response Times
Qualified Engineering Staff
Preventive Maintenance Packages
Competitive Pricing
24×7 Monitoring Options
Reduced Overall Costs: Utilizing Danush L1, L2 & L3 resources, increased productivity, and increased efficiency reduces the overall cost of the solution and ownership.
Quality Process: Danush ITSM processes and standards will provide a managed environment and ensure delivery quality.
Testimonials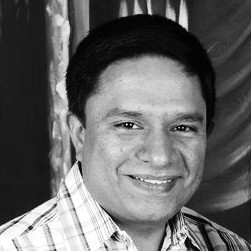 Ghansyam – Chief Operating Officer
Rang De is India's only social Peer to Peer lending platform, regulated by RBI.Dhanush Systems helps us in IT administration – hardware and software procurement, IT support, implementation and monitoring of our IT compliance.Dhanush Systems team is very responsive and great to work with.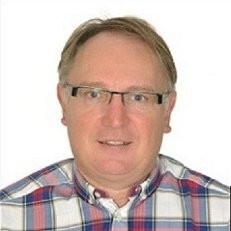 Freddy Willems – Manager
It is indeed a pleasure to have Danush Team implement IT network upgradation in our Organization. They have taken care of the implementation of New Server, Sever rack, windows server 2019, VM Ware. Also, they have taken care of backups in local server and cloud, migration of all users to Domain, to Microsoft 365, to exchange server and implementation of group policies. "We take this opportunity to congratulate Team Dhanush on Implementing the IT network upgradation in Angus. All this with zero disruption of on-going works, and no downtime! Once again congratulations and we look forward for a long-term association with Dhanush in future."
any practice doesn't make perfect. Only best practice makes perfect.

Vince Lombardi
Download this document for detailed services including
Services Catalog
FAQ's
What is included in managed IT services?
At Dhanush, we provide various IT services from which your business will benefit
It includes Centralized Help Desk, Remote Infrastructure Management, Information Security, vendor management, end-user computing, etc.
2. What are the types of managed services?
At Danush, we offer network, server & storage, end computing, applications, security, IT service management.
3. Who is the top managed service providers?
Our expertise, IT service desk at Danush is what makes us best.
Having us as your IT partner will make your business achieve all the goals and let you be on the top.
4. Why do we need managed services?
By employing Danush as managed services you can focus on the work more
your company can improve efficiency by letting our experts handle IT services.
5. What does manage security services mean?
Managed security services are network security provided by a service provider
At Danush, we offer security services that reduce the risk and you can be assured
We offer compliance security, disaster recovery, backup & restore, cyber security& firewall, end-point security, 24 hours monitoring, etc