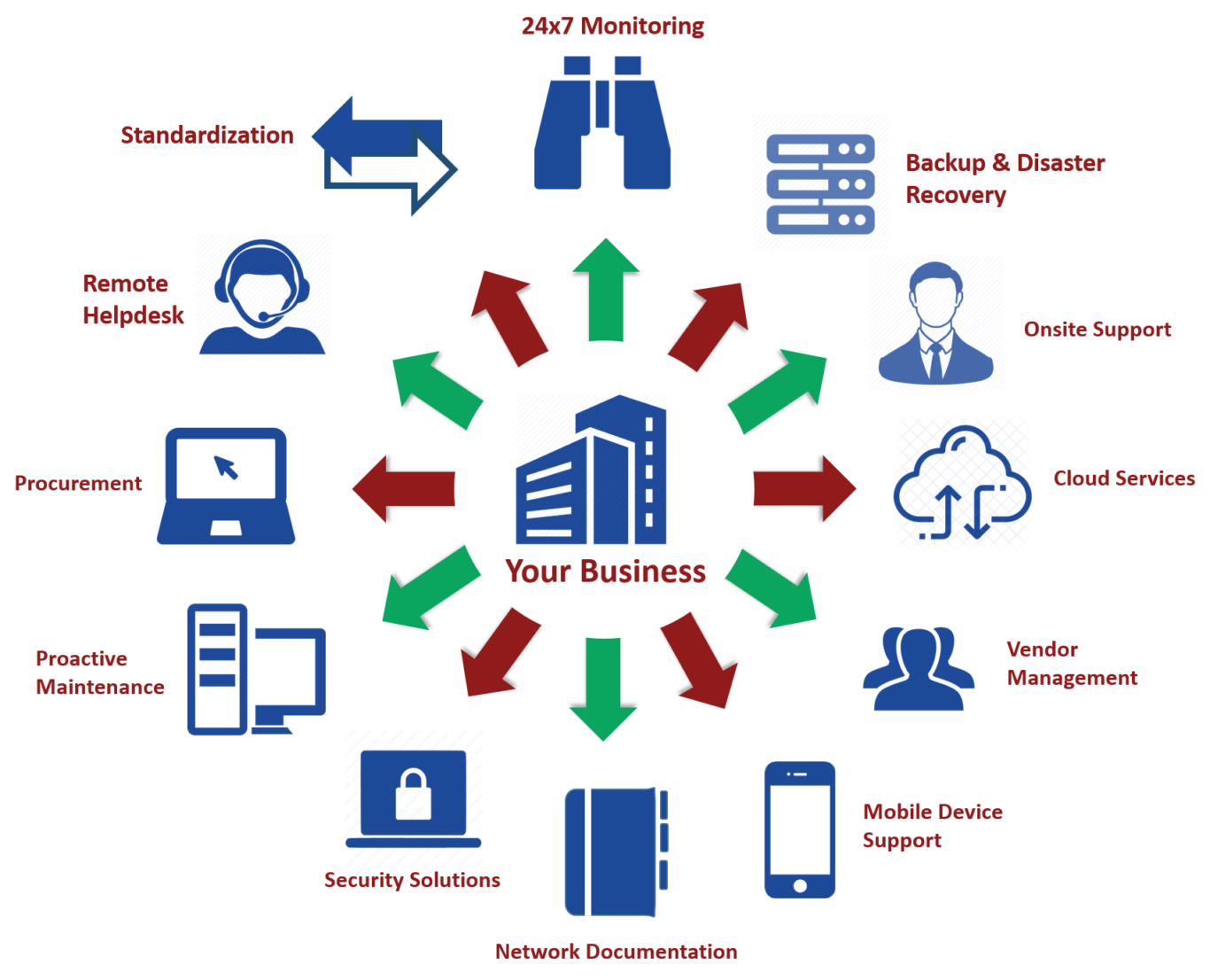 IT Managed Service refers to outsourcing the internal IT tasks to a third-party vendor with the understanding that the contractor is responsible for smooth functioning and business of the equipment and processes.
The Concept of managed services for IT is to taking responsibility of maintaining IT services from the company to the managed services provider. This enables internal IT teams to focus on projects that add long-term strategic value to a company as maintenance like repairing faulty hardware, office printer's toner ink, etc. And, by employing a managed services provider you're effectively making use of your vendor's wealth of experience in fixing and troubleshooting IT issues. There's a strong chance that your internal staff doesn't have the same skills or depth of knowledge.
How Does Managed IT services work?
In this section, we'll discuss popular services that managed service providers typically offer. Please note this isn't an exhaustive list and there may be other services, too.

Remote management and monitoring : It is the practice of monitoring client IT environments. Also referred as remote IT management, this service helps managed providers ensure their clients' networks are in optimum condition.
Remote monitoring ultimately ensures optimal network functioning, enhances performance and helps to detect issues before a critical system breakdown.
Cloud computing: Computer resources such as data storage, is a crucial business function in the internet era. Managed providers take the responsibility of migrating legacy organizations to the cloud as well as servicing and maintaining the infrastructure. That's an essential value addition for organizations that may not have this expertise in-house or are unclear of how to go about their cloud migration plan.
Benefits of Managed IT services.
When Do You Need Managed IT ?
Questions you Should You Ask a Managed IT Service Provider ?
IT Help Desk have two major functions. One is to resolve the IT issues of internal employees such as a malfunctioning laptop or internet outage. Another is to resolve queries of customers, typically via email, live chat, or telephone inquiries.
Cyber Security : Cyber-attacks are a real big threat to businesses now a days, It Is becoming big challenge to organisations, IT Managed Services providers ensure Security with things like anti-malware protection, security reporting, and system monitoring to provide a robust security environment. They'll also train your staff in security best practices as employees are usually the weakest link in the chain.
Device Management sometimes falls under cyber security but can also be a standalone function. It refers to securing employee devices to enforce internal controls and maintain a credible level of IT safeguards.
Device management is particularly applicable for organizations which deal with critical customer data such as financial services or any kind of organizations. Managed IT Service providers take responsibility for security patches as well as ensuring everyone on the network complies with industry best practices.
How to Price Managed IT services
The popular methods of pricing managed IT services are typically either per-device, per-user, or a flat fee every month that covers all services or it can be customized too.
However, there's no fixed mechanism and each contract between a managed service provider and client deals with pricing issues differently.
Advantages of Managed IT services
It's an undeniable fact: businesses have more internal IT requirements compare to earlier days. That's where managed IT firms can fill the gap. They help firms concentrate on their core business tasks while assisting change in systems and processes where needed. They also keep you up-to-date with the modern technology.
Danush Systems and Solutions have helped hundreds of companies to achieve greater profitability and efficiency by taking care of internal IT processes and functions. Contact us today for a free consultation on how we can help your business!